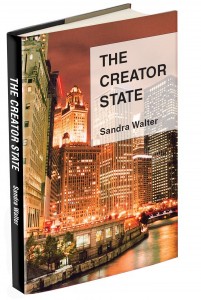 My first novel, The Creator State, contains a theory about the connection artists have to the collective consciousness when they create. The theory behind The Creator State is gaining credibility in the nonfiction realm with the recent discoveries in quantum physics. I'll be writing more about that over the summer.
My book explores a few exciting possibilities:
Artists share a special bond with the creative force which manifests everything we perceive around us.
This connection may allow artists to manifest positive changes in the world through a unique application of the power of intention. Truthfully, art has done this throughout history; but with the current energy of change affecting our planet, we may be more effective at creating change than previous centuries.
Our purpose as artists may be more influential than previously considered.
Our understanding of the creative process and creation itself may enable us with unique abilities to create healing, peace and enlightenment on our earthly plane.
If you or your colleagues have experienced this state of consciousness; the moments when art holds much more than entertainment, please share your experiences and stories. This site is dedicated to encouraging excellence in your creative endeavors. Detailed explanations of the Creator State, both the theory and the book, are available here. The novel, The Creator State, is always available on Amazon.com.