Retraining the Ego, Mind and Emotional Levels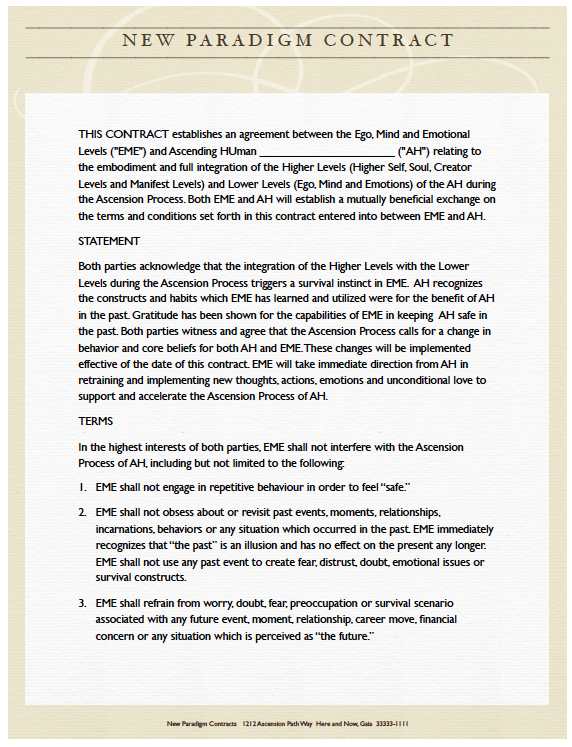 The new paradigm – the great unknown – is terrifying to the denser levels which took over during the old paradigm. They want to keep us safe, they want to survive. But they don't have the skills to shift instantly into the new paradigm.
The lower levels are like old paradigm salespeople suddenly dropped into a new paradigm office. Everything has changed around them, and they have no skill set for how to function, use the new tools, or move ahead.
We aren't going to fire them, they simply must be retrained to support the new agenda. Your Higher Self is guiding the training with compassion and understanding, but the lower levels need direction or they'll continue to reproduce what they have always done. They are trying to sell ink wells in a world that is moving into telepathy.
A fun and effective training method
This FREE pdf is a contract between you and your ego, mind, and emotional levels. It explains what the new agenda is, what they need to do, how to support where you are going, and that no more recreation of the old paradigm is acceptable. Print it.  Sign it. Post it up where you can see it. Make your lower levels honor the contract. This is light grounding; anchoring a new idea in a physical way in this realm. When the mind wants to worry, or the ego wants to control, remind them of the contract and say, "Honor our contract. Let's focus on the new reality, please. Thank you."
Click HERE to open the PDF.
Right-click to Save Link As on PC, Control+click to Save Link As on Mac
____________________________________________
This mission runs on love, light and your support.