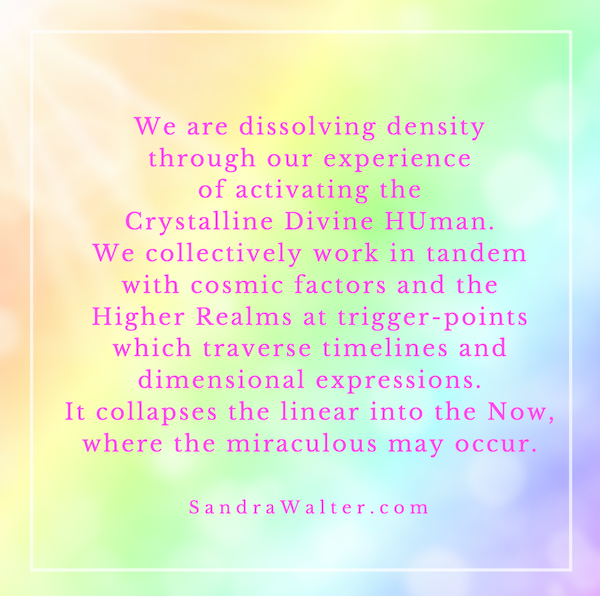 Blessings Beloved Light Tribe ~
The advice to fast this week has served me well; I AM still cleansing, fasting and feeling the opening of new pathways within myself. Fasting always amplifies my skills and connections, which is why I enjoy it.
During this influx, it allowed my body to catch up with this new level of Presence and DNA transformation. This week's influx is strong and ongoing, and my cells and DNA feel wide open to the Cosmic Winds. A Divine reflection of the massive Gate openings which have brought us intense geomagnetic storms and solar wind all week.
Sustained geomagnectic activity can be challenging to the body, emotional and mental levels. Use your highest wisdom to be present with where your heart is directed. Take care as Solaris and Gaia dance with this new area of Galactic geometry which transforms consciousness. Meditate with us on SUNday, we will share these codes and upgrades with the collective.
Read the latest Full Article HERE
SUNday Unity Meditations
Numbers count ~ align with thousands dedicated to creating peace, harmony and balance during this acceleration of our Ascension!  We meditate for 33 minutes each SUNday at 8:11am, 11:11am and 5:11pmPT.
Share with your Groups, Social Media … this is a co-creation of Divine Service. Every Heart is welcome to this consistent infusion of LoveLight.  Details HERE
Blessings and gratitude to all participating in this massive project of Ascension!
In Love, Light and Service,
Sandra