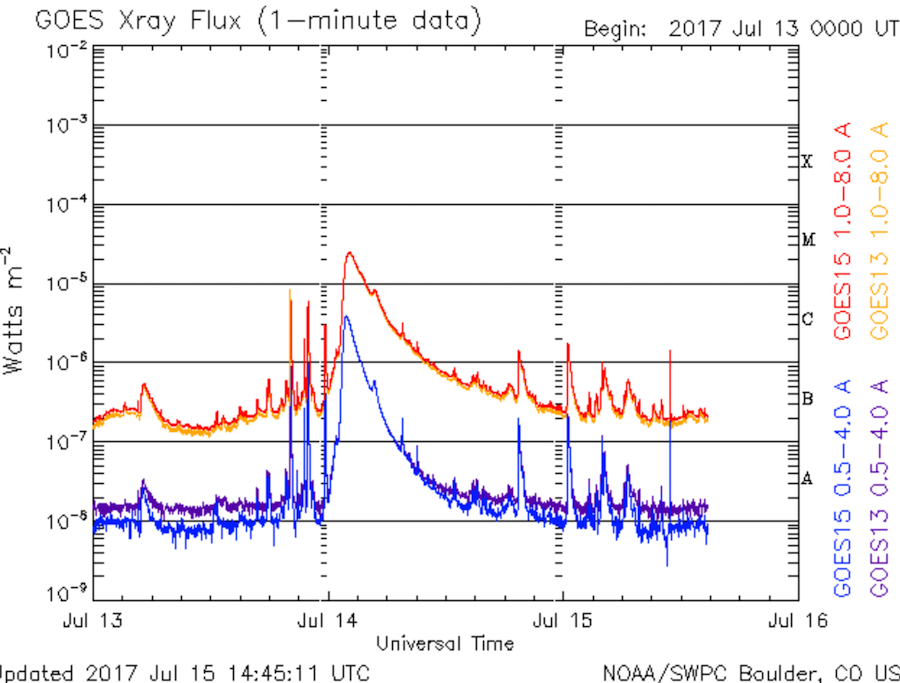 Blessings Beloved Light Tribe ~
Our Cosmic Stargate opening on July 13 provided a long-duration M-class flare event. This influx continues through July 17, and prepares us for our global unification (cosmic trigger) on SUNday, July 23.
Much like the last cosmic stargate opening, the activity is precisely coordinated with the exact moments of interaction during Gatework; how blessed we are to witness the physical affirmation of our connection with the stargates.
Some intense global history was transmuted during this activity; more uncomplimentary secondary timelines and their sources were removed. This is more preparation for the August Gateway, which may feel more imposing as it approaches. Breathe, beloveds. Our collective strength is powerful, consciousness-shifting, peace-making stuff. We got this. Gratitude to all who are actively assisting during these passages of amplification.
About that Gridwork Video …
Thank you for all the requests for how-to-do-effective-Gridwork. Right now my focus is on Gatework and finishing up new Ascension Path videos before the August Gateway. Like most of you, I feel like I will vibe out of the skin suit. The expansion energies make linear creations challenging, but not impossible. I do still intend to create some free assistance for Lightworkers desiring to get into Gridwork, because it truly does accelerate our collective journey. Perhaps the energy will yield to landing this creation on Monday after this Gateway passage is complete.
Kindwhile, work with Gaia through the heart … you cannot get it wrong if you create with a high-vibe intent. The key is to take action. At least join in the SUNday Unity Meditations, they amplify your service (and the crystalline grids, and a lot more.)
Transcending Archetypes
A video version of Monday's conversation with John Burgos on Transcending Archetypes is available. Apologies for recycling the photos from last year; there is much going on at the moment. The topic is very applicable to our current experience, which is why I created the video version, and allows us to check in with our progress in this rapid-fire evolution we are experiencing this year.
Transcending Archetypes is relevant to the August Gateway and the timeline split. We are applying the larger function of photonic influence to everything; the New Template of Self, DNA, timelines, completion dynamics, resolution of old self, resolution of Higher Realm activity, and the dimensional bridge of Christ consciousness embodiment.
Unity consciousness has many applications and we are witnessing this complexity, or acceleration of change, in our own lifestreams. It is also aptly timed with this Gateway when several storylines of global conflict are being removed.
Preparation for the August Gateway includes preparation of the Heart. Be sure to focus on self-empowerment and unconditional love within to have maximum impact on the external. Releasing old beliefs – transcending archetypes across the board – is presenting on a global level. Thank you for releasing all which does not serve HUmanity's highest good, as well as your own. The Transcending Archetypes video is embedded below.
Global Unity Meditations
Our SUNday connections continue to amplify. Collective meditations create peace; let us infuse the HUman heart grid, crystalline grids, Gaia, kingdoms and elementals with our Divine LoveLight presence. Beloved Lightworkers in pure service, please join us on SUNday for the global Unity Meditations.
Gratitude for welcoming the new light with an expansive heart!
In Love, Light and Service,
Sandra


———–
Your support for this work is welcome, thank you for a gratitude donation today.