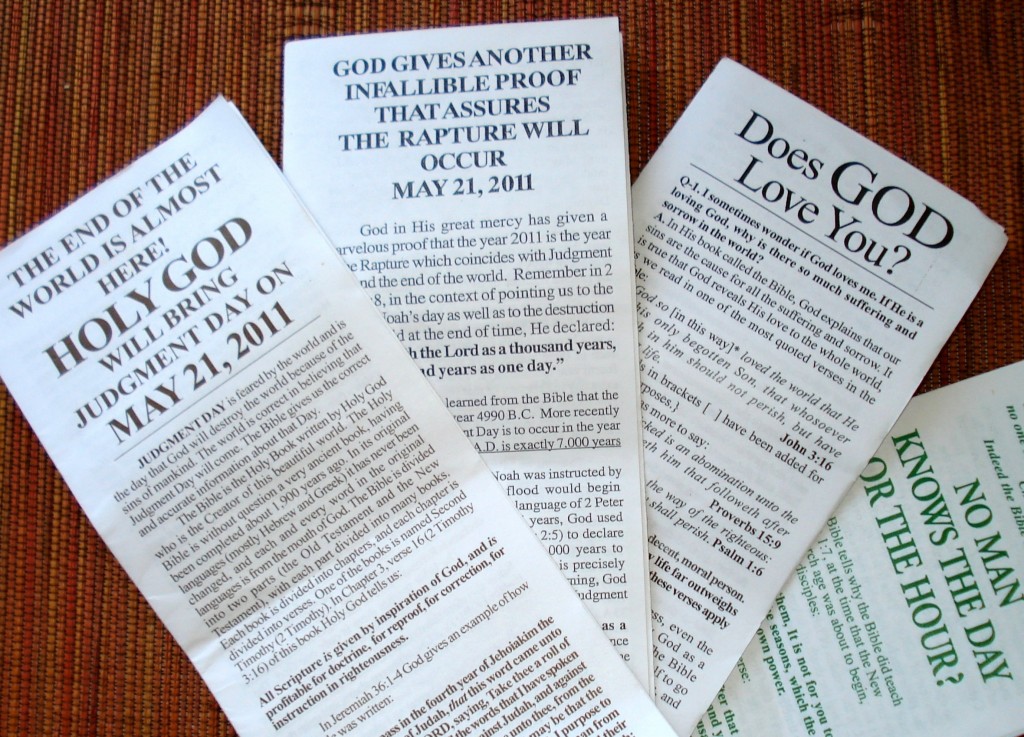 The end of the world is almost here! Holy God will bring judgment day on May 21, 2011.
The above headline is on a pamphlet being distributed in downtown Chicago. Huge ads with the same warning glare from the side of a bus or two. The man handing out these missives, along with Family Radio: a Bible-based Christian broadcasting ministry with no church affiliation, the organization circulating this information, believe the bible's day of rapture, the big judgment day, is next weekend.
They calculated the May 21, 2011 date based on many passages in the bible, and I've seen this date thrown around on the internet. The pamphlets (four in the series) cover the math used to decipher the end of the world, and the urgent threat that God will kill everyone who isn't a believer.
The Family Radio literature uses the same kind of fear tactics utilized by main stream media and governments; just insert God's wrath for terrorists or whatever you don't completely understand. Think about this, please. The same fear tactics are used in religion, government and corporate media. Are you seeing the connection?
Punishment, exclusivity, unworthiness, separation, judgment. It's difficult to see it still working on many minds; a polarized God that would choose one person over another based on their faith or actions. Fortunately the structures upon which these methods are based is crumbling. RIP polarity nonsense, thanks for the lessons.
It makes no difference to me what people practice, as long as they don't harm others.  I'm not sure what these churches have in mind for the 21st, but I do wish them peace. I truly hope these folks don't lose it on May 21 or the following days, or hurt themselves (or others) in any way. Please don't drink the kool-aid if offered, or interpret an Earthquake as evidence of wrath.
Compassion, please
As someone who is experiencing a lot of change when many others are not, I can sympathize with feeling like an outsider. So I'm inviting the pamphlet man to a free lunch with me next month. (This gives the doom date a few weeks of wiggle room.) No preaching, just a nice neutral lunch to see how he's handling his days. Perhaps he will need a meal if he gave away his money before the 21st.
You are invited to listen in on the Family Radio broadcast
I intend to listen to the big event going down on May 21st. Surely they will broadcast a  judgment watch special on the big day?  Maybe there is an opening for a host on the 22nd. I am volunteering if anyone wants a compassionate, non-judgmental speaker who is willing to openly discuss an alternative version of the God consciousness. I'll open with a few deep breaths. Visit  www.familyradio.com for a countdown calendar and live broadcasts.
If you find this website helpful, please make a donation to show your support.