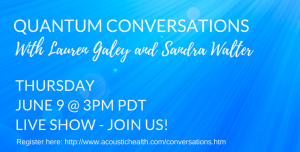 Blessings Beloved Light Tribe,
Please join me this week for our group events!
Unity Meditations: Tap into the collective HUman Heart grid on Wednesday, June 8 at 8:11am PDT, 11:11 am PDT and 5:11pm PDT. These are very strong activations; we are revealing what our collective Christed Self is bringing forth. More details HERE
Quantum Conversations with Lauren Galey: Thursday, June 9 at 3pm PDT. This will be a live show discussing the current energies and our Ascension Path. Register here for this free event: www.acoustichealth.com/conversations.htm
You will get an email from Lauren Galey for the show 2 hours before the event and can listen to replay anytime.
Blessings for a beautiful week!
In Love, Light and Service,
Sandra