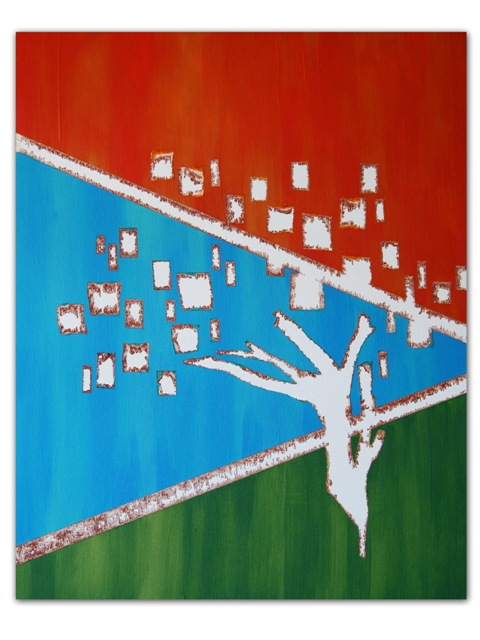 I'm finishing up my Etsy shop makeover and am very excited to reveal the new look and content. The shop will focus on creating with intention, with the first series of paintings infused with visualizations for healing the Gulf oil spill. This is the first time I've shared the direct intentions behind my paintings. As an abstract artist, I've left the interpretations up to the audience unless they inquired. Online galleries and sites like Etsy have changed that practice, and now we're getting an intimate glimpse into the creative process of artists with each listing. It's fascinating to me, and I am excited to share this step in our creative evolution.
By sharing the story behind the painting, the original purpose of the art –  to create a shift in reality by creating with the power of intention – the creative process is revealed to the observer. As I wrote the descriptions yesterday, I noticed the emotion of the original intention was very present. Then I recognized that not only was the painting going to serve it's original effort, but the intention to heal, to love, to recover could be utilized by the observer and applied to their own life circumstances. If it is all energy, thought energy, that image could take on a personal meaning for the owner and retain the original energy. Perhaps the intention could not only magnify positive thoughts for the Gulf, but remind them to feel the love of healing every time they observe the work. By experiencing the intention of the painting, they may be able to energize that feeling in their own heart, and improve their own situations. Which ultimately leads to more positive thought energy in the collective consciousness, which leads to more positive action in the world.
It's a pleasure to share these intentions with all of you. If you create with intention; creating art to promote peace, healing, and a connected global consciousness, please share your shops and sites with me. I'm putting together a community page next month to share my discoveries and promote those who promote peace through art. Have a wonderful day, go create something with intention!