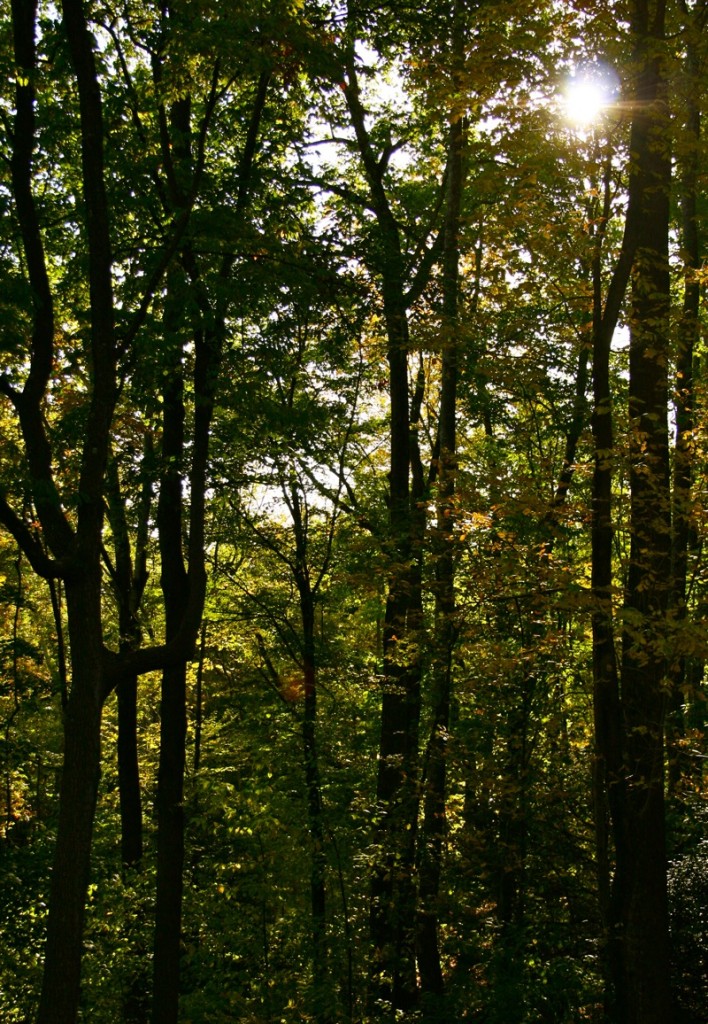 The moments leading up to the Higher Self stepping completely and fully into our body vehicle are both exciting and – for some – remarkably calm. So many sources, as well as my own, have noted this window when the photonic energy will be at its peak, DNA activation earns its jump time, and the veils get very thin between dimensions.
I was directed/drawn to be in the wilderness, embraced by Mother Nature, where I can feel every single moment of this window (October 15 – November 11) without distraction. I have relocated to the mountains just outside of Asheville, North Carolina, an area known for its loving energy vortex. The Blue Ridge Mountains are 400,000,000 years old, making them one of the oldest mountain ranges on the planet. I'm high atop Bald Mountain (cue music) and the dramatic landscape here has many secrets and promises to share.
After years in the city, the first few days were quite an adjustment. I've been clearing fears – most of them nonsensical at this point, but as we've learned, these fears must take one last turn so we may transmute them for good.
Fear number one: Living in the mountains without the conveniences of city life.
After a long, winding, steep drive through some dramatic landscape, I made it to my destination. I've adjusted to the elevation and isolation rather quickly. There is divinity in silence; hearing no one else for hours on end. Memories of past journeys in the Himalayas, Australia and Peru come to comfort me; I know how to do this. I'm getting used to the activity of other realms up here (more on that later.) The absolute beauty of the Blue Ridge Mountains in the Fall is breathtaking. Fear of isolation, be gone. Up and out, thanks for the lessons.
Fear number two: No Internet access!
My big ol' log home on the side of Bald Mountain promised Internet access. This did not pan out. After an emotional departure from my love back in Chicago, and a long drive to get here, I was a little freaked out by being cut off completely from the outside world. (Telepathic connection to all of you cannot come fast enough for me – can you hear my transmissions yet? I talk to you frequently!) Miraculously, I have a clear cell phone signal and will be trying out a mobile broadband unit next week. Meanwhile I have to adjust to not being able to post or tweet all of the messages and inspiration that I feel throughout the day. That had become quite habitual, which waved a red flag. Attachment to this genre of communication needed to be examined. While I'm grateful to be of service. it also brought up the the egoic challenge of why do I think this is important?Is it my mind, ego, or higher levels that want me doing this right now?

I chatted with my Higher Levels on this topic. It turns out that the recommendation I make in my sessions is still valid, and indeed important. Light grounding – writing all of this down so that others can learn and be encouraged or inspired – anchors the frequency of the Shift and the Ascension into this reality. My mission continues to be Ascension Guide; walking others through the process by sharing my discoveries, guidance, and the messages that I continue to receive along the way.
While it's been lovely to break the habit of the Internet, I understand that my expression, intuitive guidance and counseling are part of the reason why I am here. So I'll be back with some kind of connection next week. At the very least I can continue to host sessions via cell phone, and it's a 2 mile walk down the mountain to an internet cafe. There is much to be shared from this perspective, it's really quite incredible. Fear of no web access, be gone. Up and out, thanks for the lessons.
Fear number three: Fear of experiencing too much too quickly.
The amplified energy on top of this mountain is palpable. My whole body is pulsing and vibrating at a much faster rate than it did back in Chicago. Emotions well up and are transmuted, physical symptoms are more pronounced (but adjusted quickly), and the guidance from my higher levels and divine entourage is much closer, clearer and calmer. My days unfold in a very intuitive, relaxed way and I am deeply grateful to be surrounded by these gorgeous forests and amazing mountains during this window. It is clear that something big and wonderful is about to happen.
Without the distractions of the city, which seemed to be very entangled in third dimensional reality, I can sense, feel and see the new paradigm amplifications. Anything could happen up here. It may get very strange as I share and interpret my journey through the window. But It's a beautiful time and I'm very grateful that I didn't let all of the shoulds and have-tos dominate this window of activations. It feels perfect. Fear of too much too fast, be gone. Up and out, thanks for the lessons.
The present moment and the divine plan
On this mountain is where I scatter the ashes of my ego. Here is where I face the last shadows of my fears, dissolving them in the light of me returning to myself. It's ironic to feel the sadness of separation during a time of preparation for no separation. There is an awareness of something magnificent about to occur, paired with the frustration and anxiety over how much preparation and adjustments are still needed. I feel incredibly neutral about what may or may not happen for me personally. My Higher Levels are playing out my role in the divine plan, and I choose not to interfere with whatever is ahead for me. Let it be, there are more surprises ahead in this journey.
My upper chakras ring, sing and dance with the amplifications. I continue to ask for more, whatever is needed for my Higher Self to step right into this vehicle at the right moment. I have ongoing conversations with the elementals, the forest, the mountains, the animal kingdom and the etheric realms. This mountain has witnessed so much, and yet it's happy to support my awakened presence; it shares my excitement and joy of what is occurring. A sacred circle has been built in the woods, cleansed and activated; another set up inside, and the patient days of presence unfold.
One very simple message keeps presenting: All is well; pay attention, pay attention, pay attention.
—-
Ascension counseling sessions with Sandra will be available after October 20th. Visit the Ascension Sessions page to book your time with Sandra.

If you are inspired by my work, feel free to complete an energetic exchange with a donation!