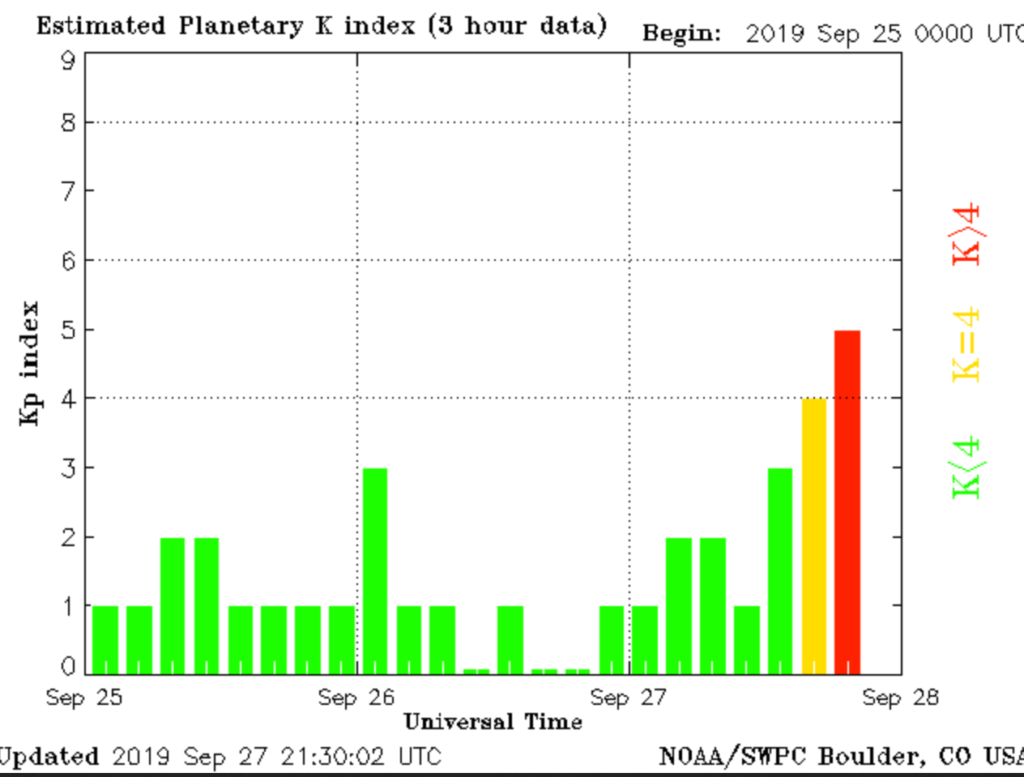 Blessings Beloveds ~
Our Timeline Shift weekend begins with a Geomagnetic Storm – right on time.
Many have been asking how these Timeline Shifts unfold and what they mean for our journey. Since this has been a topic since 2011, with the original split in timelines, let us focus on the last month or so of timeline shifts.
Timeline shifts are key trigger points for shifting realities to the New Earth experience. They gradually migrate personal and collective experiences to Primary Christed timelines by conscious choice and vibrational match.
Since this is part of a SPLIT in progress, the lower and higher vibrations are dividing. Higher timelines raise the mid-range/secondary timelines by quantum effect. Eventually these vibrational bandwidths won't see each other – they will be a mismatch, or too far apart in frequency.
As Gaia becomes more crystalline, she will not support the lower frequency any longer, so the lower-vibrational timelines experience a destructive dissolvement of those realities. Photonic plasma tends to be autonomous as these influxes grow stronger.
Weakening magnetic fields increase the boomerang effect; you manifest what you focus on. Unconditional Love becomes Divine, pure, and transcendent. Bliss triggers liquid light to amplify the crystalline lightbody.
Every choice, and the consequences of those choices, are honored in this process.  An ironic step to Unity consciousness, and a temporary experience from the higher perspective of nonjudgmental Divine Love. Ultimately, all is One. Divine Neutrality serves us well. As we always say; It is your creation, choose wisely.
SHIFTS have been continual for decades, however the acceleration since the 12-12-12 Ascension of Gaia (the creation of a New Earth platform for the migration of realities) is clear and trackable.
Your experience is based on choice. The decision to align your own reality to the vibration of New Earth is your free will choice. It is not a collective instant-fix scenario. It is a process, not an all-at-once event. The event horizon is now – we are in it. And it grows more intense as the etheric shift becomes physicalized.
⁠Your participation in your own Ascension process allows your Higher levels to merge with you. Embodiment of the Higher Self reveals higher vibrational outcomes and already-existing Divine outcomes.⁠ Our bodies and awareness need to adapt to the crystalline structures within and without.
Timeline shifts can be dramatic on a collective level. Old beliefs, habits, relationships drop away, or we are challenged to release them in order to level up. These choice points were strong during the collective shifts in May-June-July. ⁠
⁠
The Freedom code release on July 4 and Merging of the Lemurian/Inner Earth – New Earth Grids – Crystalline Grid allows for great amplification of photonic activity. They serves as ONE system now. Old structures (lower timelines running on collective thought) are triggered to dismantle. Mid-range (secondary outcomes) merge with higher timeline trajectories.⁠
How these Timeline Shifts Unfold:
⁠
– Higher levels inform us when these will occur
– Gatekeepers/Gridworkers open the Cosmic Stargates
– Magnetic shift within Gaia; core shifts are every few months now
– Geomagnetic Storms shift the grids to receive and integrate the influx
– Gates open for incoming photonic-plasma
– Solaris (the SUN) becomes more intense, more crystalline with its own magnetic shifts
– Schumann resonance spikes; Gaia's emerging Crystalline Self revealing the new light levels
– Influxes received by Unified Intent & Ceremony (Equinox, Global Meditations, Collective Creation)
– The Light Level stabilizes
– Migrate willing hearts to higher vibration during the process
– Primary Ascension timelines raise, clear & absorb the secondary timelines (quantum effect)
We see this unfolding again this weekend. September 28-29 was given as a timeline shift passage.
The 2020 energies promoting clarity and choice of experience are amplified since the collective timeline shift last May. We merged with that higher trajectory and are in the pull of that December – January Gateway already.
This is why the clearing energies have been more intense. Deal with what presents in the personal journey for your highest trajectory; keep your focus on making more room for Love Light.
Higher light levels feel wonderful to open hearts. They are also painful to uncomplimentary structures and beings. Empaths may feel this buzz in the background. Pray that all unfolds with ease and grace for all choices: Mercy is Mastery. Detach from lower level demise, there is no future in it. Learn from your Gatekeepers; a neutral, nonjudgmental Diamond Heart is a protected Ascending heart.
Seize the Opportunity
Flip your choices and realities to Divine Love (the Higher Timeline) in the moment. All is incredibly well.
⁠
Timeline Shift points are an excellent opportunity for upleveling your light quotient, adjusting your trajectory, making decisions about Divine Service and unity, unity, unity. Join the global SUNday Meditations.
Remember there are collective DNA activations with these geomagnetic storms and Solar activity (on the way, another Galactic influx has begun in the stargates). These plasma influxes unify and amplify the crystalline across all expressions, lifting willing hearts to the higher realities already in existence.
⁠
All is being alighted to reveal the higher choice of unity consciousness, creativity, peace, LoveLight and the Crystalline/Christed Gaia.⁠ Engage in high-vibe self-care during this Embodiment boost, so your Higher Self may be available to others.
September 28: New Moon at 11:27am PT. Global Unity meditation.
September 28 – 29: Collective Timeline shift. Strong boost for First Embodiers and collective DNA.
September 29: SUNday Global Unity Meditations. Collective DNA Super-radiance on the rise. Join us at at 5:11am, 8:11am, 11:11am and 5:11pm Pacific Time. Details at https://sandrawalter.com/unity/
Monday, September 30: Crystalline DNA Mastery class begins, Details at https://sandrawalter.mykajabi.com/
Let us show HUmanity what is possible with Ascension!
In Love, Light and Service,
Sandra
———–
Your support for this work is welcome, thank you for a gratitude donation today.