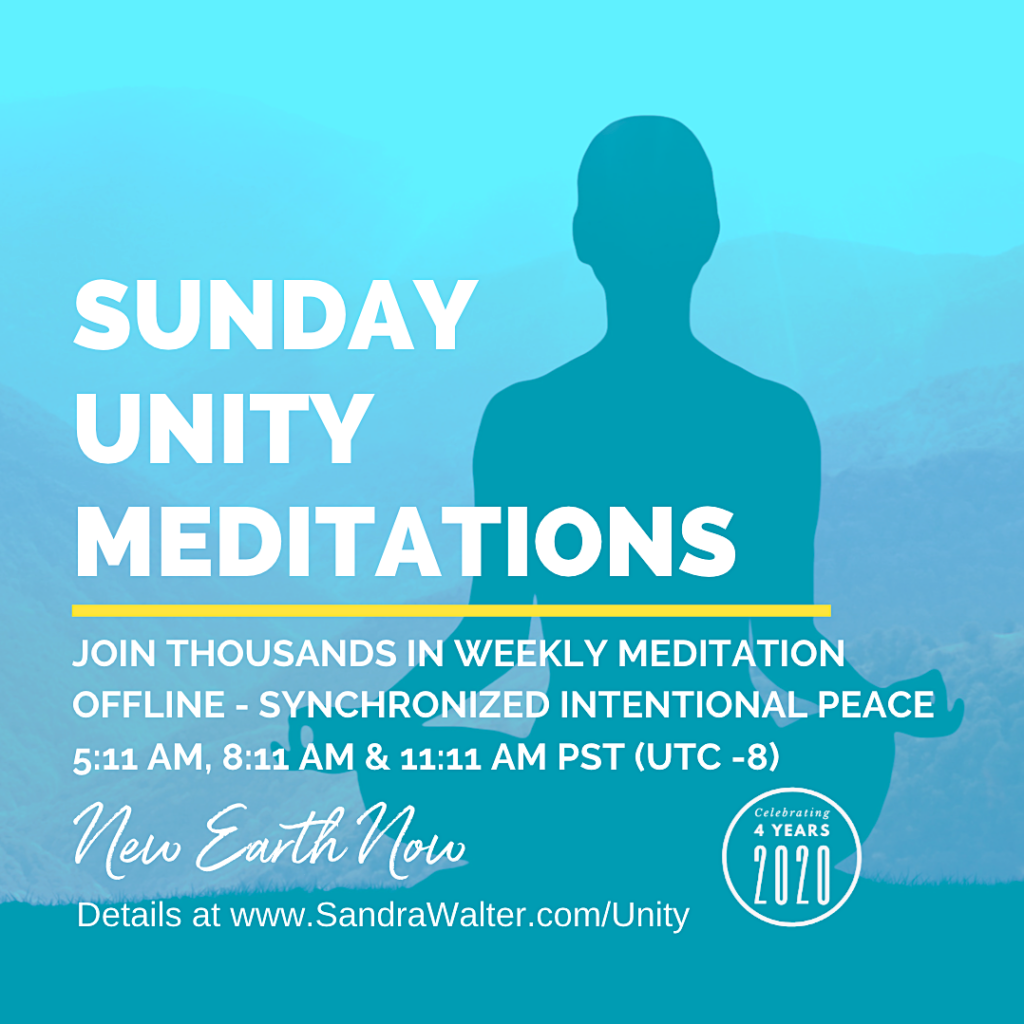 SUNday Unity Meditations
4 years and counting of Global #sundayunitymeditations ~ Join us in Practicing #Unity and Responsible Co-Creation of highest timelines, outcomes and #peace.⁠
Thank you for sharing this New Earth Now practice with your groups, tribes and co-creators. This field of Divine Love and highest Intent continues to expand as thousands of Hearts in Service tap in each week.
⁠
Where: Wherever you are. Get offline, in nature when possible.⁠
⁠
How: Center yourself, #breathe and set your #intention to connect with all Unity Meditators. Open to serve as a pure conduit for #peace, #harmony, #LoveLight and the acceleration of the #Ascension. #Meditate in stillness in your own style for 33 minutes, or use a guided expansion meditation, such as the Christ Light Activation.⁠ ⁠
⁠
– We connect in this way not only for the acceleration of the Ascension, but to train us how to connect telepathically as ONE #consciousness, without the need for grounded technology.⁠
⁠
– If you have a #groupmeditation on SUNdays, consider joining in during these hours to add your light to the unified synchronized times. Your groups will feel it!⁠
⁠
– Add the hashtag #sundayunitymeditations to your social media posts to find each other and spread the word.⁠
⁠
– Collective synchronized meditations provide the infusions of peace, #balance and Ascension codes desired and proven in many experiments. Join us when you can.⁠
⁠
SUNday Global Unity Meditation sessions:⁠
⁠
5:11AM PST/6:11AM MST/7:11AM CST/8:11AM EST⁠
⁠
8:11AM PST/9:11AM MST/10:11 CST/11:11AM EST⁠
⁠
11:11AM PST/12:11PM MST/1:11PM CST/2:11PM EST⁠
⁠
PST = Pacific Standard Time = UTC -8⁠
⁠
Download graphics for sharing, time converters, guided meditation and details at https://sandrawalter.com/unity/⁠
⁠
Let us show HUmanity what is possible with #Ascension!⁠
⁠
Christ Light Expansion meditation also available on @insighttimer http://insig.ht/gm_72761 ⁠
⁠
Follow these meditations (with countdown timers) on the new app at MassMeditate.org⁠
⁠
Because #Ascension!
In Love, Light and Service,
Sandra