Blessings Beloveds ~
Many of you have been receiving the full-body activations this week; part of the Brotherhood-Sisterhood dispensations. I AM grateful for these experiences with the Crystalline realms, initiating us into the next phase of Embodiment in such a physical way.
The Solstice-Eclipse alignment begins this Saturday, a full week before the eclipse influx. (Gate & Gridkeepers, hearts up.) The stronger flashing/rainbow lightbody activations this week prepared our fields to handle this brand new frequency.
This is the organic stargate system at work; we are becoming part of the anicent stargate system which is our starseed lineage. By unifying with Gaia's ascended trajectory, we physicalize the Ascension timelines and Crystalline experiences for all.

 I described these activations in last week's youtube video.
Personally, I have spent several hours each day this week interacting with these plasma-rainbow realms, where the Diamond-Solar DNA is reconnecting. More strands, more awareness. And a lot of integration (rest) and meditation is needed.
Remember this is collective, and everyone's experience is unique. Bliss and sleepiness seem to be the normal side-effects. As always, ask for the highest level activations, use your decrees, and get good sleep. There is a lot happening in dreamstate.
Much intel and recommendations for this eclipse passage has been shared. Revisit the articles, webinar or the latest youtube for extra support.
This is a profound moment for higher choices, honoring your experiences, and unifying in peaceful meditation. Our quantum, telepathic connections are amplified; be sure to participate in the Solstice-Eclipse meditations and SUNday Unity Meditations to assist in co-creating the highest experience for all concerned. Blessed are the Peacemakers, dear hearts. And needed in thought, word and action.
Join us for the Global Solstice-Eclipse and SUNday Unity Meditations


SUNday June 14 and 21
5:11AM, 8:11AM and 11:11AM PDT (UTC -7)
Invite all willing hearts to participate! Activations are shared through this field with your permission.

 Our field is a clear space which maintains intentions for Ascension, peace, harmony and Divine Will. Details HERE

Solstice-Eclipse Mass Meditations
Assist in Co-Creating Peace, Revelation and Opening the Ancient Stargates with the Cosmic Superwave
Saturday, June 20
Solstice Meditation at 2:30 – 3pm Pacific Daylight Time (UTC -7)
(Solstice peak at 2:43 PM PDT)
Saturday June 20
Eclipse Meditation 11:30 – 12 midnight Pacific Daylight Time (UTC -7)
(
Ring of Fire Annular Solar Eclipse at 11:40 PM PDT)
This is a major Galactic Convergence, alignment with the Galactic Ecliptic, and a Superwave of Crystalline Light from the Great Central SUN. Ancient Stargates and celestial pathways are opened. Details HERE
Graphic for sharing: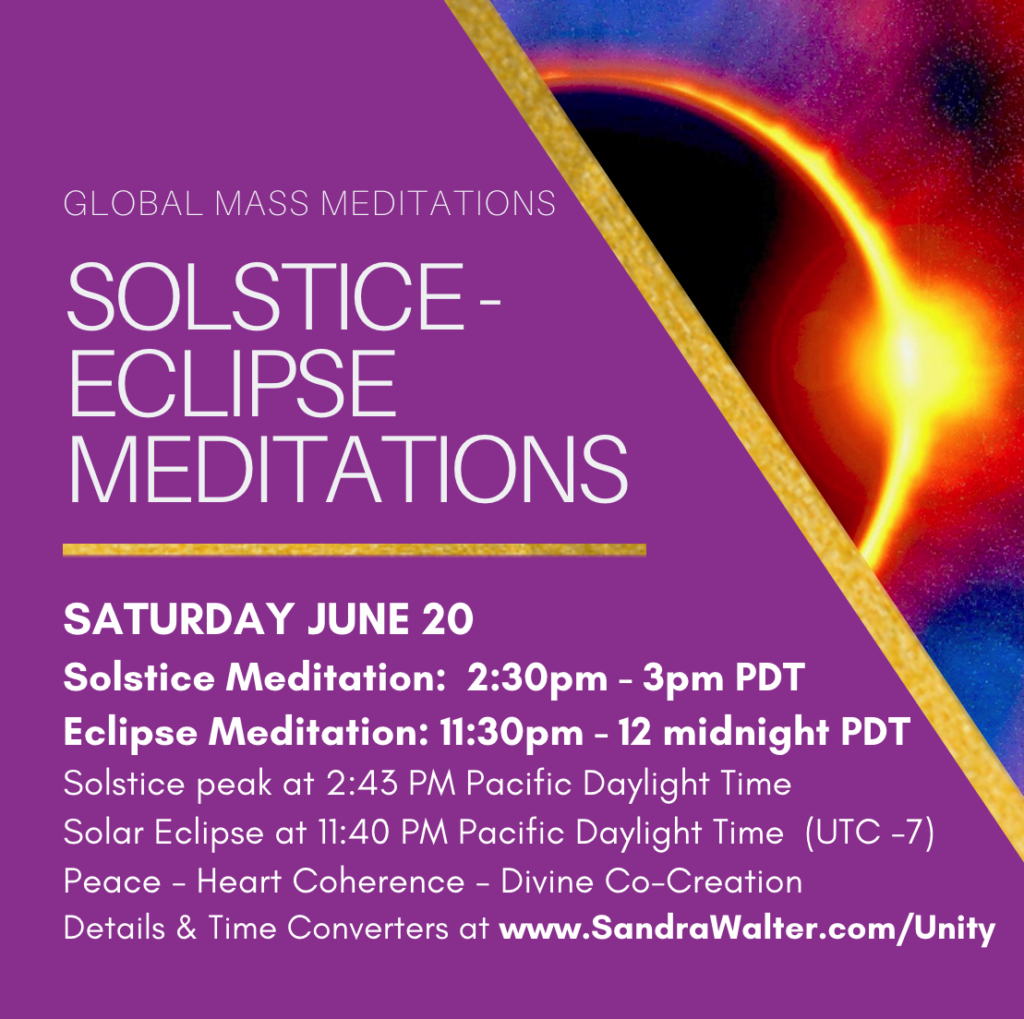 Pre-Solstice Wave Update: Replay on YouTube


I notice my own evolution in recent conversations, as well as stronger light codes. Our becoming is ON. Perspective on the Eclipse Gateways, Solstice waves, current events, eclipses, the Solar flash, Embodiment, Timeline Division, and more is shared.
Guidance came through for maintaining calm, clarity, centeredness and opening to the consistent activations of 2020.
With the Solstice Eclipse just a week away, this is a perfect NOW moment to receive these words, light codes and quantum realignments.
Let us show HUmanity what is possible with #Ascension!
In Love, Light and Service,

Sandra